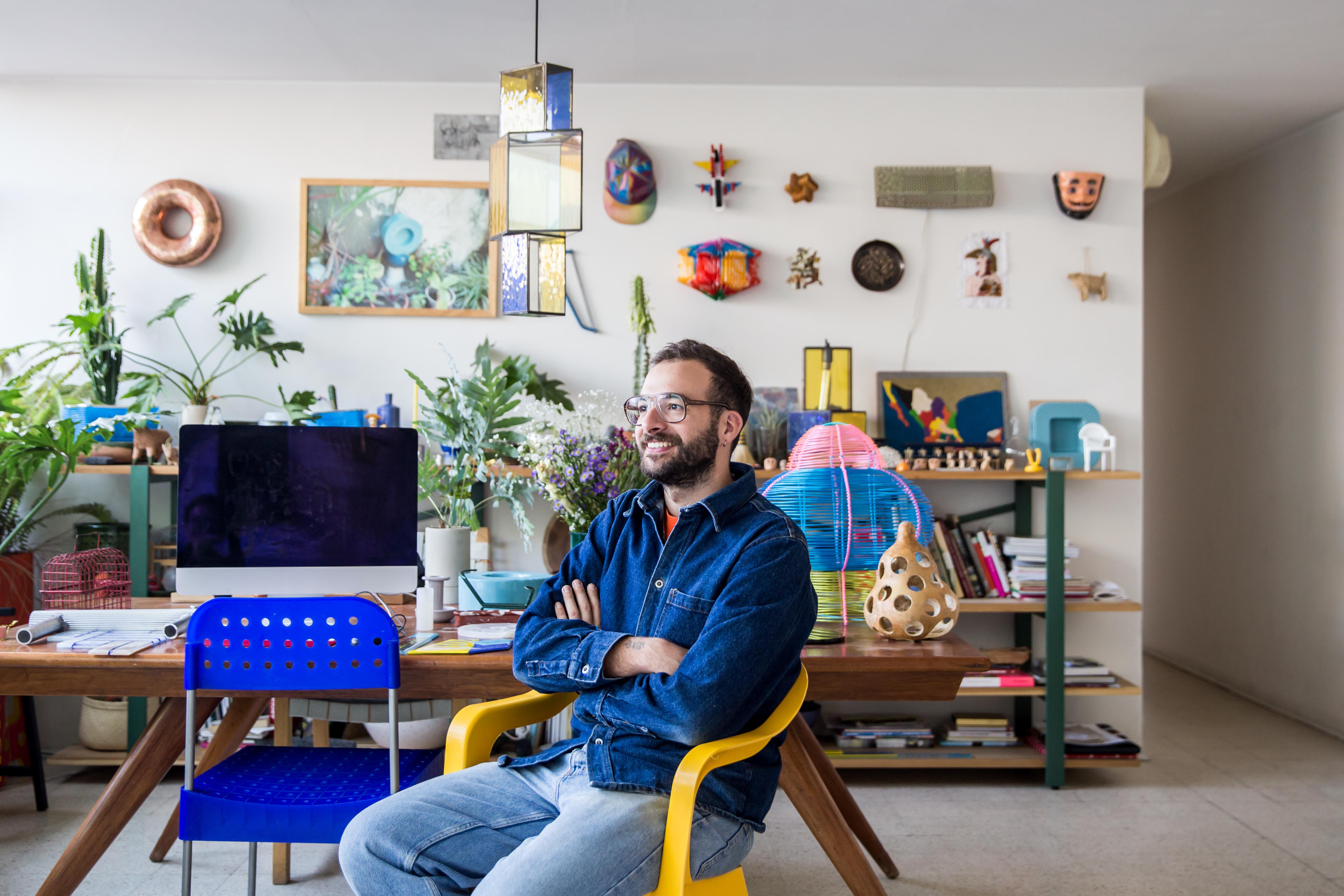 Studio Fabien Cappello is a spacial and furniture firm based in Mexico City since 2016. The studio first opened in 2010 in London, to produce work in different contexts; from commercial objects to specific editions and public environments. All works share a high consideration for both, craft techniques and industrial production, reflecting design through people and their interactions with space, environment and material culture.
Trajectory
Fabien Cappello (France, 1984) is a furniture and product designer. He studied at the University of Art and Design (ECAL) in Lausanne, Switzerland and in 2009 obtained a Master's degree in Design Products at the Royal College of Art of London under the tutelage of Martino Gamper and Jurgen Bey.
He founded his eponymous studio in 2010 in London. Much of Cappello's studio early work explores the idea of the creative use of local resources and local manufacture.
Between 2010 and 2011 he was awarded research residencies in Korea, Portugal and Italy to work with local artisans. At this time, many of the projects involved surveying and mapping local resources, often identifying what is not used or valued as part of the design process.
His productions revealed unexpected aspects of the locality and an open approach to the working practices of culture in the making. The survey he made in 2011, inventorying small industries and artisanal workshops in an underprivileged suburb of Lisboa and the resulting production depicting it, got acquired by the permanent collection of the British Council.
In the following years, he based his studio in London, from where it opened its scope to different European latitudes, focusing mainly in the development of the practices that form the core of its actual work methodology: "understanding design not as an isolated exercise, but as the connection point between people and their life, production and culture, places and identities".

During this period he developed an eclectic body of work for public institutions, museums and prestigious design galleries. 



Some of the most iconic projects include, his research as part of the Stanley Picker Fellowship, where he looked at how local manufacturing in the western part of Greater London can be used to generate public space furniture for the city of Kingston upon Thames, the lighting exhibition within the XVIII century collection of the Musée des Arts Décoratifs de Bordeaux, a personal exhibition of a scenic living space in a XIV century fortress as part of the programe of Villa Noailles a center for design in the South of France, and various special projects
for the renowned galleries such as Nilufar in Milan or Gallery Libby Sellers in London.
In 2015 his work was exhibited in Musée des Arts Décoratifs in Paris and collected by various european public collections. This year, he got selected as one of the 20 best designers under 40 years old by Wallpaper* magazine.
The following year, he moved the studio to Mexico's City historical center which has served of a very fertile context for the refining of his practice. Exploring further the concepts that were running through his work in the very diverse, popular and youthful context of this Latin-American metropolis.
His most recent work has been dramatically influenced by the complexity of the Mexican material culture making the most out of its resources and locality. Acknowledging all the possibilities involved in the creation process of each project has become the studio's distinctive identity.
The scale of projects Fabien has been in charged of has shifted from designing objects and furniture to generating integral solutions for public and private environments, and this clearly tends to be its focus in the years to come.
This vision is most recognisable in his first public intervention in Mexico Room with a view for Dos casas hotel in San Miguel de Allende, from which the SFMoMA acquired a sofa for their permanent collection in 2019, the reading room for Archivo Gallery in Mexico City and 3 consecutive years as the designer responsible for the furnitures and fittings of Material Art Fair.
His most recent presentation for Ago Projects "Artes y Oficios" which will be open until Abril 2020, make the design strategies of Fabien Cappello tangibles: "My work is trying to propose a non-aspirational aesthetic, that relate to a new order of values" Cappello states. "It means using elements of vernacular culture, and material that are overlooked or little considered, but that are relevant solutions. It's never about mimicking but about trying to make durable and culturally significant places for people".
Selected Press
https://www.sightunseen.com/2019/11/fabien-cappello-studio-mexico-city-ago-projects/
https://www.wallpaper.com/design/top-20-under-40-design-stars-of-tomorrow
https://revista-animal.com/archive_item/animal-22/gabinete-fabien-cappello/cabinet- fabien-cappello/
https://www.wallpaper.com/design/fabien-cappello-the-garage-in-dos-casas-hotel-mexico
https://coolhuntermx.com/las-sillas-callejeras-de-la-ciudad-de-mexico/
https://www.wallpaper.com/design/casa-dots-an-installation-by-designer-fabien- cappello
https://www.wallpaper.com/design/top-20-under-40-design-stars-of-tomorrow